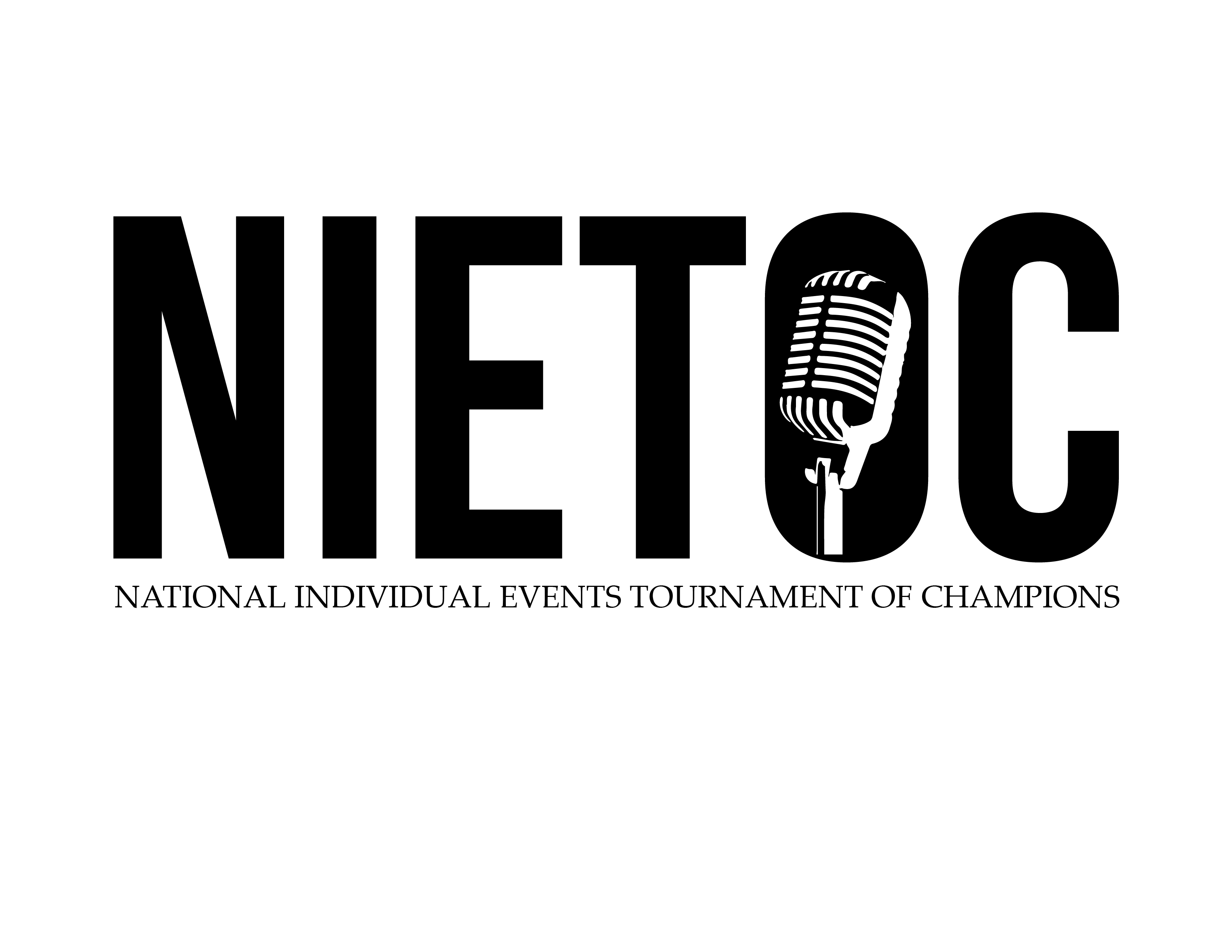 WHERE?
Frank Dobie HS, Houston, Texas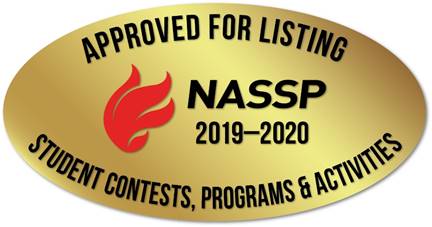 About the Competition
The National Individual Events Tournament of Champions will bring the nation's best and brightest students and teachers in Oral Interpretation and Public Address together to participate in a Tournament of Champions. For teachers and coaches NIETOC will provide helpful workshops, networking opportunities with programs nationwide, and the opportunity to judge some of the best performances in the nation. For students, NIETOC will provide an educational workshop focused on improving speaking skills, excellent competition and a chance to meet speech competitors from all over the nation.We look forward to seeing you at thenNIETOC experience in 2019!
The NIETOC reserves the right to deny or refuse to accept the application from any participant to the competition. The NIETOC reserves the right, at its sole discretion, to change, modify or alter the procedures, rules or regulations regarding any aspect of the competition without notice. Students who qualify for the NIETOC are able to enter up to two main events in one flight and one in the alternate flight. Students must qualify for NIETOC in each separate event.
The Competition
Details
The NIETOC will offer competition in Dramatic Interpretation,Humorous Interpretation, Duo Interpretation, Duet Acting, Original Oratory, Informative Speaking and Program of Oral Interpretation. Champions in main events and the overall individual performer will receive scholarships. The Josephine Mamie Dukes Outstanding Teacher Award will be presented to an outstanding coach. Students may double enter in one flight and single enter in the alternate flight, in order to compete in a maximum of three events. The NIETOC is designed to give competitors an amazing competitive experience, with its student-centered schedule, competitive costs and minimal judge requirements.
Get the details
Pictured above from left to right:
DUO  – JAKE LIEDER & CAMPBELL BERNSTEIN  OF EASTVIEW, MN
ORATORY – CLARK WEBB OF SAINT MARY'S HALL, TX
POI – UZO NGWU OF APPLE VALLEY, MN
DUET – MATTHEW GUTOWSKI & MADDIE CAMPION OF GRAPEVINE, TX
HUMOR – JOHN DUNCAN HARLINGEN OF HIGH SOUTH, TX
INFORMATIVE – CECEILIA VOSS  OF APPLE VALLEY, MN
DRAMATIC – JACKSON REICH OF WINSTON CHURCHILL, TX
Congratulations to 2019 Tournament Sweepstakes Winners:
Act 1 Nominees:
-Albuquerque Academy, NM
-Democracy Prep Endurance, NY
-Roseville, MN
-Tusky Valley, OH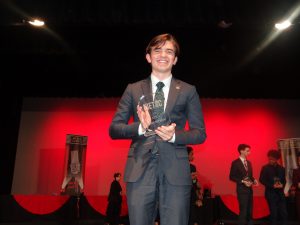 Act 1 Winner – ACCEPTED BY JACKSON REICH WINSTON CHURCHILL, TX
Act 2 Nominees:
– Achievement First, NY
– Judson Theatre Arts, TX
– Liberty North, MO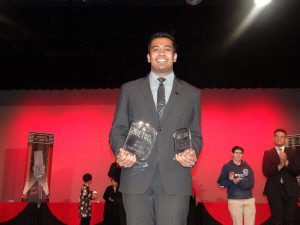 Act 2 Winner – ACCEPTED BY RAHUL IYER MISSION SAN JOSE, CA
Act 3 Nominees:
– Archbishop Mitty, CA
– Harlingen High South, TX
– Woodbury, MN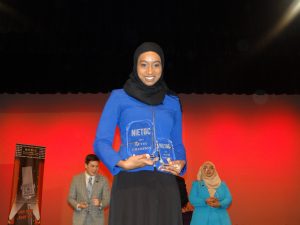 Act 3 Winner – ACCEPTED BY HALIMA BADRI APPLE VALLEY, MN
                          .
2019 Josephine Dukes Teacher of the Year Award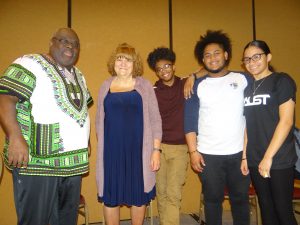 NIETOC EXECUTIVE DIRECTOR TOMMIE LINDSEY WITH 2019 RECIPENT SARAH ROSENBERG AND HER STUDENTS FROM DEMOCRACY PREP, NY
2019 Perfect Performance Award and Scholarship Winner
JOHN DUNCAN OF HARLINGEN HIGH SOUTH, TX WITH
DEMOND WILSON, NIETOC FOUNDER & OWNER OF THE PERFECT PERFORMANCE
************************
Judging Criteria and Rules Of Awarding
How To Qualify
The 3 ways to qualify
There are three ways to qualify for the NIETOC:
automatically, with bids, or as an at-large.
A. Novice-level results are not applicable for automatic, bid or at-large qualification.
B. Although a host school's team may compete in their tournament, they are not eligible for a
bid from that tournament. They may, however, use those results as part of their at-large application.
C. Students may qualify through competition in a main event (DUO, HI, DI, OO, DUET, INFO, POI) only.
More Details
Interested in becoming a Bid School?
Do you have a Nominee for Teacher Of the Year award?
NIETOC News
The latest news from the NIETOC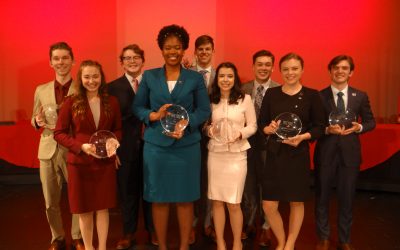 Let's welcome the new speech season! 2019 NIETOC Champions Welcome to the 2019-2020 school year and speech season! From all of us on the executive committee we wish you a successful season! NIETOC Executive Board Matt Heimes – President Joni Anker – Vice...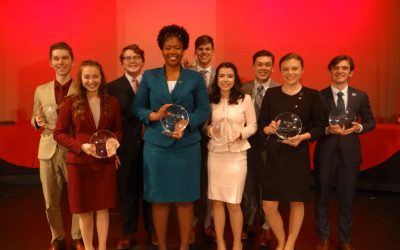 GREETINGS! THANK YOU to all of those who attended this year's NIETOC in Omaha, Nebraska. We are grateful that so many of you joined us for a great weekend of competition. CONGRATULATIONS to all participants in the 2019 NIETOC tournament. Sharing your own stories and...
Contact Us
Are you interested in being a sponsor? Have questions about attending the event? Get in touch now.
NIETOC
8 Canterbury Drive
Hattiesburg, MS 39402
By Phone: (402) 310-4153
By Fax: (402) 436-1085 ATTN M.HEIMES
By Email: info@nietoc.com