MAKE PLANS TO ATTEND THE 2019 NIETOC TOURNAMENT
WHERE?
Millard North HS, Omaha NE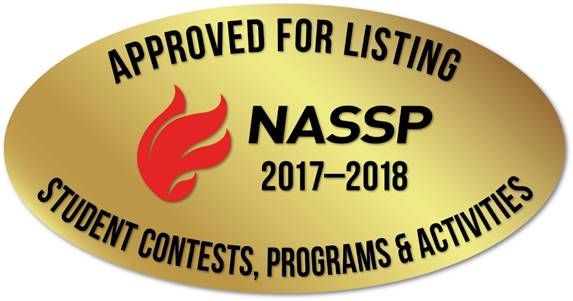 About the Competition
The National Individual Events Tournament of Champions will bring the nation's best and brightest students and teachers in Oral Interpretation and Oratory together to participate in a Tournament of Champions.The TOC will provide students exposure to a diverse group of performers and literature from the nation's best and brightest in Oral Interpretation and Oratory. This event will provide renewal for teachers with guided workshops, networking opportunities with programs nationwide, and strategies for increasing student achievement. We look forward to seeing you at the NIETOC in 2019.
The NIETOC reserves the right to deny or refuse to accept the application from any participant to the competition. The NIETOC reserves the right, at its sole discretion, to change, modify or alter the procedures, rules or regulations regarding any aspect of the competition without notice. Students who qualify for the NIETOC are able to enter up to two main events and two supplemental events. The choice of events to participate in is up to the student(s), along with coaches and parents.
The Competition
Details
The NIETOC will offer competition in: Dramatic Interpretation, Duo Interpretation, Humorous Interpretation, Original Oratory, and Duet Acting. We will also offer the supplemental events of Prose and Poetry and Expository. Champions in Main Events and Supplemental Events will receive scholarships. The Josephine Mamie Dukes Outstanding Teacher Award will also be presented to an outstanding Coach. Students MAY DOUBLE ENTER in main events. If they do not advance to a main event semifinal round, they MAY DOUBLE ENTER in supplemental events. The NIETOC is designed to give competitors an amazing competitive experience, with its student centered schedule and competitive cost and minimal judge requirements.
Get the details
Pictured above from left to right:
Original Oratory – Noemi Rivera, Royse City, TX, coached by Matthew Stewart

Perfect Performance Award – Drake Leach, Saint Mary's Hall, TX, coached by Joe Muller
Poetry – Logan Klutse, Lakewood, CO, coached by Korinna Ghiloni

Prose – Kelsey Pierce, Tuloso-Midway, TX, coached by Tasha Kneis
Duo Interp – Liza Rotty & Zach Frye, Apple Valley, MN, coached by Dan Hodges
Humorous Interp – Conor Sherry, Archbishop Mitty, CA, coached by Karen & BJ Cruz
Duet Acting – Jake Ledger & Olivia Monroy, Archbishop Mitty, CA, coached by Karen & BJ Cruz
Expository – Amanda Dickerson, Millard West, NE, coached by Jennifer Jerome
Dramatic Interp – Taylor Turner, James Logan, CA, coached by Justin Kurup, Ben Unanaowo & Jesse Garrett
Congratulations to 2018 Tournament Sweepstake Winners:
Act 1 Nominees:
– Andy Dekaney, TX
– Nebraska City, NE
– Sacred Heart, MS
Act 1 Winner – Royse City, TX, coached by Matthew Stewart
Act 2 Nominees:
– Harlingen High South, TX 
– Golden State Academy, CA
– The Harker School, CA
Act 2 Winner – Apple Valley, MN, coached by Luke Ostrander

Act 3 Nominees:
– Archbishop Mitty, CA  
– East Ridge, MN
– Lakeville North, MN
Act 3 Winner – Saint Mary's Hall, TX, coached by Joe Muller
                          .
2018 Josephine Dukes Teacher of the Year Award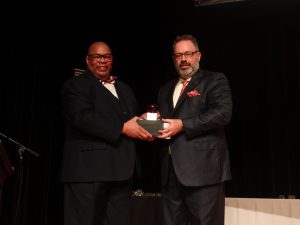 Congratulations to Michael Marks of Hattiesburg, MS pictured with Scott Waldrop
2018 Perfect Performance Award and Scholarship Winner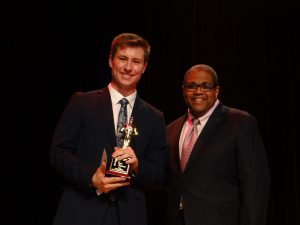 Drake Leach of Saint Mary's Hall, TX, pictured with Demond Wilson, Founder of NIETOC
Judging Criteria and Rules Of Awarding
How To Qualify
The 3 ways to qualify
There are three ways to qualify for the NIETOC:
automatically, with bids, or as an at-large.
A. Novice-level results are not applicable for automatic, bid or at-large qualification.
B. Although a host school's team may compete in their tournament, they are not eligible for a
bid from that tournament. They may, however, use those results as part of their at-large application.
C. Students may qualify through competition in a main event (DUO, HI, DI, OO, DUET) only.
More Details
Interested in becoming a Bid School?
Do you have a Nominee for Teacher Of the Year award?
"
Venue
The conference is being held at the Millard North High School, 1010 S 144th St, Omaha, NE 68154
Hotel information can be found by clicking "Learn More"
NIETOC News
The latest news from the NIETOC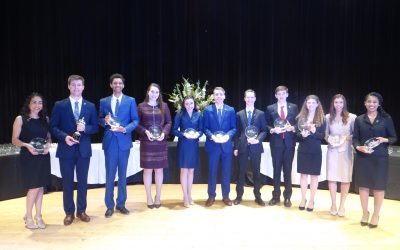 NIETOC 2018, another successful tournament! Congratulations! ‌ 2018 NIETOC Champions Greetings! Congratulations to all participants in the 2018 NIETOC tournament!  Bravo to all the coaches and judges who do such amazing and important work affecting the lives of these...
Contact Us
Are you interested in being a sponsor? Have questions about attending the event? Get in touch now.
NIETOC
8 Canterbury Drive
Hattiesburg, MS 39402
By Phone: 1(214) 394-3610
By Fax: (570) 300-3377
By Email: info@nietoc.com